Take calls and listen to music all day with 18 hours of battery time
Wind and water resistant to provide amazing durability while on-the-go
Optimized neckband design and oval ear gels in different sizes for a customized, secure fit
One-touch access to Siri and Google now with a dedicated voice control button. The accessories are available under the headset cover inside the box
Exceptional sound quality from 10mm speakers engineered for immersive audio
Wind-protected, water-resistant, Amazing durability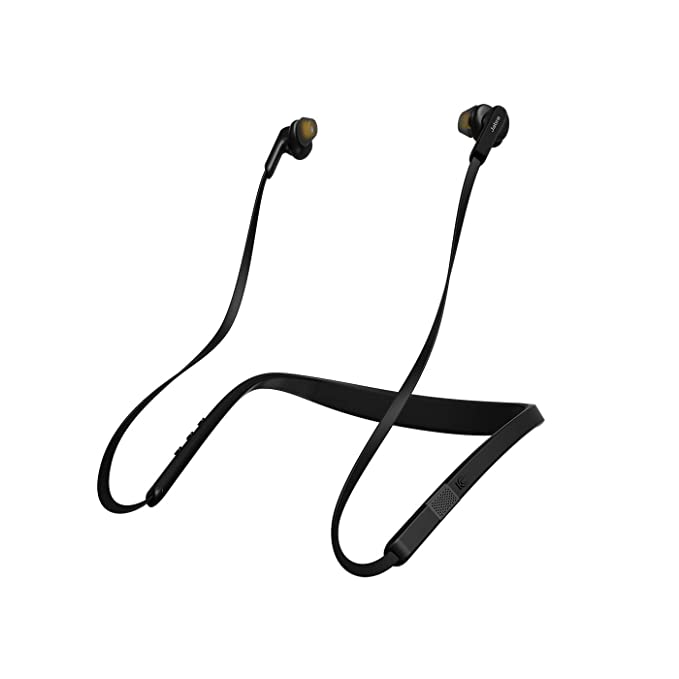 The good:
Helps you listen to music when working out.
Lighter than headphones, so you can wear it all day and not feel anything.
Sound quality is decent. Don't go expecting deep bass and rich treble – it gets the job done.
Overall, manages to look cool and inconspicuous at the same time.
Battery life is really good – lasts me at least a whole day at work.
Plenty of additional features in the Jabra connect app, such as finding the location of the device. Very nifty and useful for the kind of person who tends to leave spectacles lying around.
Magnetic earbuds are super useful – detach earbuds to answer incoming call. Attach earbuds when on call to end the call, or when playing music to stop music.
The bad:
Almost everyone I called using this complained that my voice was distorted too much. I recorded some of these calls and found that the mic is probably too sensitive, causing this trouble. Not sure how this can be fixed, but since my primary requirement was to use this during workouts, it's no big deal.
The range seems wonky – when there is no obstacle between phone and device, I can walk up to 6m away and still hear music very well. But when I put the phone in my pants pocket while working out, there is stuttering. Repeated attempts to remove the device and add it again have proven useless. Most strange.
The earbuds are kind of annoying to use. Rather than the simple round ones, these are oval shaped, which makes it kind of uncomfortable to wear for longer than a few hours. But listening to music for that long can be damaging to ears, so…
Overall, decent product, probably costs a little more than it should. One extra star just for the app and its additional features.