If you've used Amazon Alexa-powered Echo speakers or Fire TV, you already know the benefits of this virtual assistant. However, most of these devices require power to function, meaning you don't get the full advantage of portability. Amazon Echo TWS earbuds technically aim to solve the problem by offering the best of both worlds – the benefits of Alexa AI and TWS earbuds. These earbuds aren't exactly new to the Indian audio market, but they are now available at an attractive price. At launch, the Amazon Echo Buds (2nd-Gen) were priced at Rs 11,999; however, customers can currently get them for just Rs 6,100 (probably a limited offer).
Aside from Alexa capabilities, these earbuds also offer ANC (active noise cancellation) and transparency audio modes – common features among most premium earbuds these days. Each earbud also includes three mics for clear voice commands input and calls. Another advantage is that existing Alexa customers can manage the earbuds with the Amazon Alexa app for Android and iOS, therefore, removing the hassle of downloading a separate app. The Amazon Echo Buds (2nd-Gen) may seem like ideal TWS earbuds for Amazon Alexa-enabled speakers and TV users, but there's a catch.
Fit: Let's start with the basic and the most important aspect of any earbuds – fitting. The Amazon Echo Buds come with an in-canal design and are available in Black colour. The earbuds fit snugly, and the package even includes ear wings or fins for a more stable fit. Of course, we get different sized ear tips that most earphones' packages include.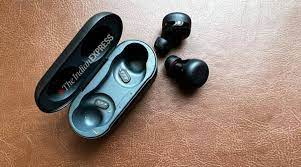 The earbuds are fairly light, but the body is slightly thick. As a result, these earbuds protrude out of your ears, which could annoy some users. Overall, the earbuds are comfortable to wear, even while running. As always, I'd like the readers to know that I am not blessed with big ears, so wearing in-canal style earbuds aren't always ideal after prolonged usage.
I faced a similar problem after wearing the Amazon Echo Buds (2nd-Gen) for roughly 45 minutes.
Alexa Experience: Similar to Amazon Echo speakers, the Amazon Echo Buds can perform a host of tasks with simple voice commands. I used the earbuds indoors and outdoors, and the three-mic system works pretty decently. Despite that, Alexa, like any other commercial AI in the market, still needs more improvements to understand Indian accents and various forms of Hindi and English pronunciations for the best user experience.